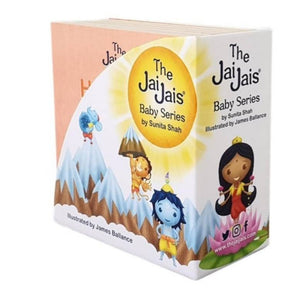 The Jai Jai's is a series of books created for children to meet Hindu Gods and Goddesses. There are a range of books aimed at different ages.
The Baby Jai Jai's Collection consists of 6 board books (Ganesh, Krishna, Shiva, Hamuman, Durga and Lakshmi) and can be bought in a great easy to store pack and are perfect for babies.
Check out other books by Sunita Shah in the Jai Jai's Original Series, The Festival Series and The Legends Series
SPECIAL OFFER - FREE Personalised Baby Theme Magnet with every purchase.